RED V. BLUE is the first movie to document college basketball's greatest rivalry: KY vs LOUISVILLE!
If you are a fan of Kentucky or Louisville college basketball, then you need to see THE RIVALRY: RED V. BLUE, a new sports documentary that spills Kentucky's biggest secret: The Commonwealth is home to the best hoops in the nation!
As seen on ESPN Classic and KET, RVB is available for purchase on iTunes, Amazon Prime, Xbox, and Vudu, or you can buy a hard copy directly from our website.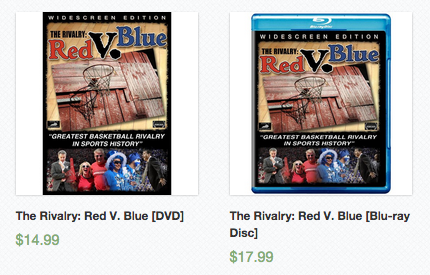 THE RIVALRY: RED V. BLUE weaves current events, including back-to-back national championships in 2012 and 2013, with the intriguing history of a rivalry game that didn't even exist for decades. From 1959 to 1983, the two basketball teams refused to meet on the hard court!
The movie also documents the real lives of super fans Mark Wagner and Robert Boone, two rival barbers whose hilarious banter epitomizes what makes this rivalry the most passionate in college basketball. KY vs Louisville. Pitino vs Calipari. Red vs. Blue… This movie is a must-see for any true sports fan! 
The documentary features interviews with coaches, players and personalities, including Denny Crum, Joe B. Hall, Governor John Y. Brown, Derek Anderson, Luke Whitehead, Scott Padgett, Jim Host, Oscar Combs, Mike Rutherford, Matt Jones, Peyton Siva, Russ Smith, Gorgui Dieng and many others.
To purchase THE RIVALRY: RED V. BLUE on DVD or Blu-Ray, please visit our online store for free shipping today!

Want to look good for the next installment of the KY vs Louisville rivalry? Check out our web store to see our awesome RED V. BLUE swag, which includes hats, hoodies, fleeces, tshirts, posters and much more!
For more information on the UofL-UK rivalry, visit our about page. For more information on hosting a screening of RED V. BLUE, go to our screenings page.
To see what we've been up to, visit our news page or subscribe to our mailing list in the top right corner of this home page.
To buy our DVD or Blu-Ray on Amazon.com, click here, but if you would rather own / rent the digital version, try iTunes, Amazon Prime, Xbox, or Vudu!