Red V. Blue: Official Theatrical Trailer from Rory Owen Delaney on Vimeo.
Red V. Blue: Cultural Warfare from Rory Owen Delaney on Vimeo.
The Rivalry: Red V. Blue is a sports documentary that spills Kentucky's biggest secret: The state is home to the best college basketball in the nation!
Red V. Blue is the first film to document the hottest rivalry in college basketball today: Louisville versus Kentucky basketball. Pitino versus Calipari. Louisville versus Lexington. Red versus Blue. This movie had to be made; we just happened to be making it at the right time! In 2012 we were in New Orleans to document the historic Final Four showdown between the Cards and the Cats. In 2013 we were in Atlanta for Louisville's first national championship since 1986.
Successive national championships for college basketball's ultimate rivals — the gods were smiling on us!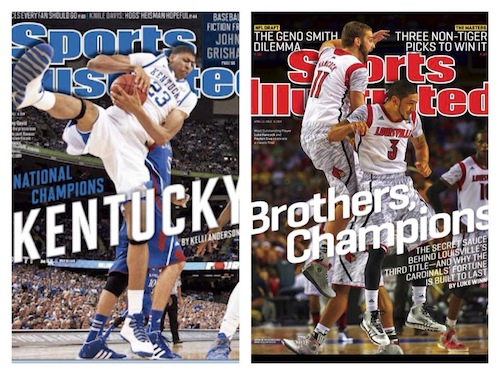 Red V. Blue weaves current events with the intriguing history of college basketball's ultimate rivalry in a one-of-a-kind documentary that shows college hoops at its best. The documentary features tons of never-before-seen footage and interviews that any true sports fan must see.
In addition to former governors, current mayors and hall-of-fame writers, we talk Kentucky Basketball with legendary Paintsville High School basketball coach Bill Mike Runyon in eastern Kentucky. We visit 101 club member Ken Kurlas in his home in Jefferson County. And we go into the barbershops of downtown Louisville to talk to rival barbers Mark Wagner Jr and Boone. These are real people who take their basketball really seriously.
We've also got interviews with tons of coaches, players and personalities, including: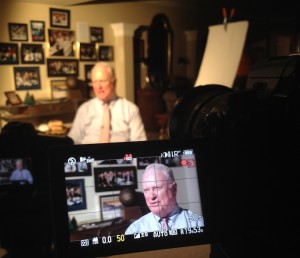 Joe B. Hall
Denny Crum
Jim Host
John Y. Brown
Billy Reed
Jerry Tipton
Greg Fisher
Jim Gray
Rob Bromley
Terry Howard
Van Vance
Jock Sutherland
Pat Forde
Al Benniger
Jim Tharp
Matt Jones
Tony Vanetti
Derek Anderson
Mike Rutherford
Tom Leach
Oscar Combs
Luke Whitehead
Peyton Siva
Gorgui Dieng
Nerlens Noel
Kyle Wiltjer
Bill Mike Runyon
Bob Porter
Above all, Red V. Blue is a celebration of one of the Commonwealth of Kentucky's greatest traditions: the Kentucky-Louisville basketball game. Visit our About Page for more information on this first of its kind documentary chronicling the Louisville Kentucky basketball rivalry. The movie is currently slated to be released in December 2013!