NOW ON SALE — BUY THE DVD / BLU-RAY TODAY!!!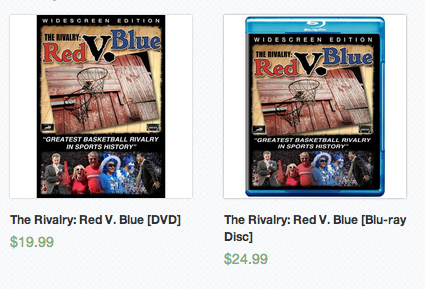 The Rivalry: Red V. Blue is a new sports documentary that spills Kentucky's biggest secret: The Commonwealth is home to the best college hoops in the nation!
From director Rory Owen Delaney and producer Wm. Wade Smith comes The Rivalry: Red V. Blue, a documentary film that weaves current events, including back-to-back national championships in 2012 and 2013, with the intriguing history of a rivalry game that didn't even exist for decades. From 1959 to 1983, the two basketball teams refused to meet on the hard court!
As of March 18th, the DVD and Blu-Ray is available at the following retailers statewide in Kentucky: Walmart, Kroger, Meijer, Hibbett Sports, Fan Outfitters, Kennedy, Neutral Zone, Dunham's Sports, FiveStar Food Mart, Hallmark, Lids, and JD Becker.
As of March 16th, 2014 at 6:00 pm ET, the film is available through Digital Pay-Per-View on redvbluefilm.com. Fans can purchase unlimited digital viewing of the film for $9.99. 
Red V. Blue is the first film to document the greatest rivalry in college basketball today: Louisville vs Kentucky basketball. Pitino vs Calipari. Red vs Blue.
The film features interviews with legendary coaches of both programs, former players, prominent sportswriters and other sports media personalities, politicians, celebrities, and a wide range of die-hard fans, making it a must-see for any college sports fan. For more information, check out our about page and watch the official trailer.
If you prefer to shop online, the DVD and Blu-Ray will also be available for purchase through redvbluefilm.com, Amazon.com, CatsPause.com, ESPN.com, CBSSports.com, UKTeamShop.com and Shop.GoCards.com.
Click here to buy The Rivalry: Red V. Blue on DVD or Blu-Ray!
Red V. Blue: Official Theatrical Trailer from Rory Owen Delaney on Vimeo.